Abdominoplasty Surgery

Abdominoplasty procedure flattens your abdomen by removing extra fat and skin and tightening muscles in your abdominal wall. In addition abdominoplasty procedures can remove post pregnancy stretched out of abdominal skin. Consequently women who have had several pregnancies may find the procedure useful for tightening their abdominal muscles and reducing hanging skin. Furthermore liposuction complemented this procedure to achieve better results. The duration of surgery is 3 -4 hours. Cosmetic and Plastic surgeons normally do abdominoplasty surgery in Kolkata in a day care procedure. Plastic surgeons placed incision below the bikini line well hidden beneath the undergarment.
After surgery one can go home the same day. While abdomen support in form of contouring garment has to be used for next 3 – 4 weeks almost every one can take shower after 3 days. Yet one should take few simple precautions no heavy weight lifting, no contact sport, etc after surgery. Success of abdominoplasty surgery in India depends upon the age of patient, their weight and their state of health.

ABDOMINOPLASTY BEFORE AFTER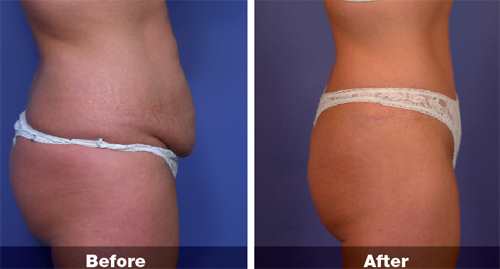 Abdominoplasty Surgery and It Cost in Kolkata
Abdominoplasty surgery cost in Kolkata or all over India varies from client to client. Most of all abdominoplasty surgery cost in India is quite lower than the cost of this surgery in the developed countries. The cost of abdominoplasty surgery in India is lower since living in India is considerably inexpensive compared to living in the developed countries. In India, the expected cost of this type of surgery can be from 1,40,000 to 2,00,000 rupees. Finally Dr.Akhilesh Agarwal can successfully do this surgery at very low cost in various super specialty hospital in Kolkata.